Where We Went: Greylock Glen - Adams
When We Went: Mid- May
Difficulty (Boots 1 - 10) : 0.5 Boot
Trail Length: Handicapped Accessible Greylock Glen Meadow Loop Trail - 1.7 miles // Moser Farm Loop Trail - 2.2 miles
How Long it Took Us: 2 Hours
"I pointed to a hill at some distance before us and asked what it was. 'That, Sir,' said he, 'is a very high hill. It is known by the name of Graylock.' He seemed to feel that this was a more poetical epithet than Saddleback, which is a more usual name for it." ~ From the American Notebooks of Nathaniel Hawthorne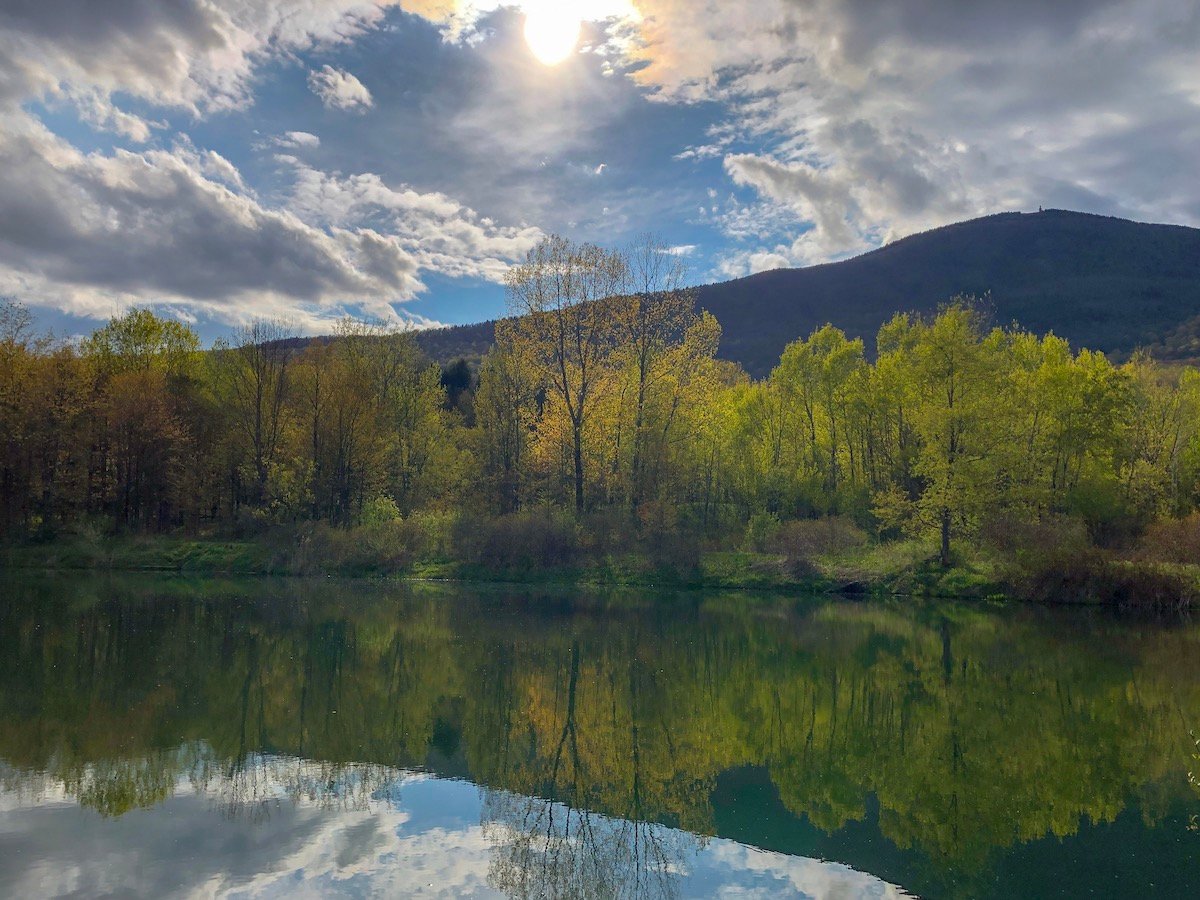 | | |
| --- | --- |
| | |
Overview: To the first settlers in the 18th century, it was called Grand Hoosuck Mountain. Pittsfield viewers dubbed it Saddle Ball or Saddleback, much to the disapproval of Hawthorne's stagecoach driver in the quote above. Yet it is here we find the 1st written record of the name "Graylock." The likely assumption is that the name stems from the rolling haze that constantly blankets its peak. As it is with both history and mountains, things get cloudier the farther you go. In David Dudley Fields' 1829, History of Berkshire County, he writes that the hill, "takes the appellation of 'Greylock' from its hoary aspect in the winter." A snow-capped mountaintop is certainly another tidy explanation.
But for us romantics in the crowd, consider a popular legend: A forceful chief of the Western Abenaki, Gray Lock, rumored to have only one foot and a white-gray streak in his hair. This illustrious leader of the Waranoak tribe allied with the French during a series of conflicts known as Dummer's War. Although the Abenaki agreed to peace terms with Massachusetts in the mid-1700s, Gray Lock would refuse. For the next two decades, Gray Lock and his stalwart followers mounted sporadic attacks on the colonies. It has even been said that at times, he hid himself on the mountain itself. Whether this version of Greylock's epithet is true or simply folk tale, in 1750, Chief Gray Lock died a free man and a legend, even amongst his enemies. I'm a sucker for a good story, no matter how far fetched. This is the version I prefer, complete with the Rogue-like (think: X-Men) streaks in his hair.
The Greylock Glen has a less notable, more infamous, history of its own. Originally owned by local farmers, during the 1970s, a resort conglomerate by the name of ELCO, attempted to develop the land into a massive condominium complex including a ski resort and golf course. Thought to be the economic savior for a chronically depressed area, after various false starts and attempts at construction, the project was abandoned due to financial issues. The state acquired the land in 1985. These days, plans for the Greylock Glen Outdoor Center are a work in progress. Plans to leave 94 percent of the land unsullied, has welcomed an allied effort of both political and environmental. Currently, two trails - the Greylock Glen Loop and the Moser Farm Loop are open and accessible for public use.
What We Dug: I'm so excited (and apprehensive) to see this place developed. We fell in love the minute we set foot on the trails. Wide, gravel trails were a bonus for the two miniature sets of legs that always seem to be following us around. We began with a stroll through a lively thicket that surrounds a pond with views of the legendary mountain. The wetland area is home to many migratory birds, and just teeming with diverse plant-life. The sounds of spring peepers were a familiar backing track for such an idyllic walk.
Following the trail into a wooded area, the kids were on high alert for rumored remnants of a ski resort that never was. Chair lift towers reclaimed by nature couldn't hide from my two champion seekers. Neither could evidence of busy beaver activity.
Further ambling took us into a magical birch grove and into a meadow. All I can say is: VIEWS. Unbelievably magnificent mountain views in every direction. I was blown away. I still am. I look back at the pictures and want to drop everything and just sit there for hours. I kid you not. It was that good. We happened to visit amidst the sparkling halo of golden hour, a happy coincidence, as Mr. Ross would surely agree. The views of Greylock and the surrounding hills are absolutely breathtaking. Revisiting during autumn months for seasonal colors is a MUST. The monstrous willow trees are a perfect spot to enjoy an apple, a hot cider, or split the difference and indulge in an apple cider donut (or 2 - we're hiking here people). I cannot think of a better spot to herald the fall foliage in all of its regalia.
"Climb the mountains and get their good tidings. Nature's peace will flow into you as sunshine flows into trees. The winds will blow their own freshness into you, and the storms their energy, while cares will drop off like autumn leaves." John Muir
What We Could Do Without: Litter makes the Earth sad and makes us mad. Pick up yer stinkin' garbage, ya cretins!
Keep Your Eyes Peeled For: black cherry, red maple, box elder, quaking aspen, gray birch, paper birch, black willow, musclewood, swamp dogwood, honeysuckle, marsh marigold, cattails, sensitive fern, trout lily, staghorn sumac, blue azure butterfly, red-spotted newt, leopard frog, beaver, American kestrel, eastern kingbird, red-winged blackbird, pileated woodpecker, northern cardinal, American goldfinch, golden eagle
Must Know Before You Go's: Glen Meadow Loop is a packed gravel multi-use path for non-motorized recreation. Handicapped Accessible. Moser Farm Loop is not. Parking available. Bathroom Facility, Gazebo with picnic table, Leashed Dogs Allowed.
Directions: In Adams, take MA-116 North and stay on Center/Park St for 2.4 miles. Turn left at E Maple St and continue onto Maple St. Take a left onto Notch Rd and continue onto W Rd. Gould Road will be on the right, keep left to arrive at Greylock Glen.
Website: mass.gov and greylockglenresort.com
Resources: amazon.com, exploreadams.com, williams.edu, greylockindependent.com, newenglandskihistory.com
| | |
| --- | --- |
| | Taylor Staubach is the mom of two rediscovering the beauty of the Berkshires through the eyes of her children. Getting outdoors is a great way to inspire creativity, to relax, decompress, and strengthen our family relationships. Days when we feel sluggish and static, nature is there to revive our spirits. Days when our energy is fit to burst through the walls, nature is the great equalizer. Our experiences aren't always perfect, but the trick is to just keep on going. Berkshire Family Hikes hopes to inspire others to get outdoors and rewild your weekend! For more hiking adventures visit berkshirefamilyhikes.com. |