Looking for a cool spot to take a dip or launch your kayak? Find a compilation of Western Massachusetts swimming holes, town beaches, state parks, lakes & ponds in the Berkshires, Berkshire County MA, Bennington County Vt. below. Did we miss a spot? Please email taylors@macaronikid.com.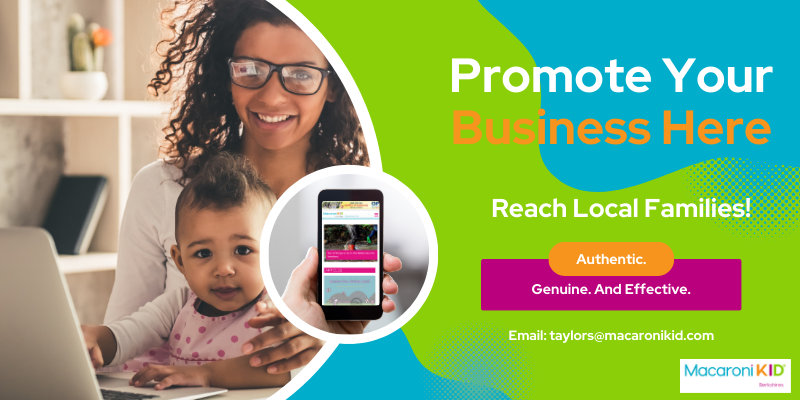 ---
Adams
Bellevue Falls, Bellevue Ave.
A swimming hole in a small tributary of the Hoosic River, tucked in the corner of Bellevue Cemetery.
Becket
Becket Town Beach, Route 8 to Mecum Rd.
A quiet sandy beach on Center Pond, with roped-off swimming area. Public boat launch. Resident sticker required.
Buckley Dunton Reservoir, Yokum Pond Rd.
You will see Buckley Dunton entrance sign just before large brown maintenance garage on Yokum Pond Rd. This reservoir on the southeast corner of October Mountain was created when a portion of forest area was flooded. (Rumor has it that the bass can be found hiding among the drowned tree stumps.) Parking is available on the far side of the dam for easy access to the paved public boat launch. (Note: Just down the road you will find more great hiking trails at Basin Pond, which is marked well with DCR signage.) No town resident sticker required.
Shaw Pond, Route 8
Public boat launch. No town resident sticker required.
Yokum Pond, Yokum Pond Rd. to Leonhardt Road
Unpaved public boat launch. No town resident sticker required.
Cheshire
Cheshire Lake, Route 8
Car top boat access only (from causeway across from Honda dealership). No paved public launch.
Clarksburg
Mauserts Pond, 1199 Middle Rd.*
The 45-acre man-made Mauserts Pond is located Clarksburg State Park. Paddle along the shoreline, explore 9.5-miles of hiking trails, build a castle on the sandy beach, or picnic in the pavilion overlooking the pond. Bathroom/shower facilities open Memorial through Labor Day.
Florida
North Pond, Central Shaft Rd.*
Nestled in the Savoy Mountain State Forest is North Pond. Parking alongside beach area is available, with easy access to the public boat launch and restroom/changing rooms. Rentals of nearby campsites and cabins are available. Daily state forest parking fee between Memorial and Labor Day.
Great Barrington
Lake Mansfield, Lake Mansfield Rd.
Plenty of free parking for this sandy roped-off public beach, complete with swings, a grassy picnic area and hiking trails. Kayaks and canoes may be put in at the small boat launch located at the south end of the pond and at the beach area, outside of the swim ropes. No town resident sticker required.
Hinsdale
Ashmere Lake Boat Launch, Smith Road
Launch kayaks, motorboats, and small crafts at this state boat launch. (Take Rt 143 in Hinsdale to right on Creamery Rd. Merge left onto Middlefield Rd/Skyline Trail, and then take next left on Hickingbotham/Smith Rd. Look to your left of the dark brown gate of DCR entrance to Ashmere Lake State Park.)
Hinsdale Flats, Route 8
Launch your kayak where Russo Brook crossed Route 8 (just south of Skyline Trail) and paddle alongside the railroad tracks to Cady Brook, Frissell Brook or the east branch of the Housatonic. The foliage in autumn is stunning! (If you time it right, you can catch a passing train.)
Plunkett Reservoir, Longview Drive
Sandy public beach with roped in swimming area and changing rooms. Free parking. No permit required. Public boat launch located across the causeway from the beach.
Lee
Goose Pond, Cooper Creek Rd.
Parking for the public boat launch is also available at the end of Cooper Creek Rd in Lee.
Lee Sandy Beach, 415 Laurel St.(Behind Black Swan)
Open June 15 - Labor Day (10 am – 8 pm) with bathrooms/changing facilities and lifeguards on duty. Swimming lessons offered 2nd week of July. Beach house phone number is 413.243.4313. Parking stickers are not required.
Laurel Lake Boat Launch, Laurel St./Route 20
A public boat launch and roadside fishing area. Note: Zebra Mussels are known to be in the lake.
Lenox
Lenox Town Beach, Route 7/Lee Rd. (Behind Cork n'Hearth)
Open June 15 - Labor Day with bathrooms/changing facilities and lifeguards on duty from 11:30 am - 4:30 pm. (Beach closes at dusk.) Designated for Lenox residents, but parking permits are not required.
Stockbridge Bowl Boat Launch, Route 183
The public boat launch has ample parking and a picnic area. It's the ideal place to launch a small craft or rooftop boat. (Across from Kripalu.)
Monterey
Benedict Pond, 65 Blue Hill Rd.*
The crystal clear pond, with sandy beach and roped-off swimming area is the heart of Beartown State Forest. Clean bathrooms and changing area are between the beach and parking area and well-maintained hiking trails, laced with wild blueberry bushes, loop around the pond. Plenty of picnicking locations and gorgeous photo opportunities.The ideal day trip!
Lake Garfield, Tyringham Rd. (off of Route 23)
The town beach and public boat launch on the west end of the lake are open to the public. No parking pass needed. Lifeguard on duty and porta potty available during summer months. Boating on this 262-acre lake is allowed with limited horsepower restrictions.
New Marlborough
Lake Buel, Lake Buel Rd.
This is a 2-mile long spring fed lake. The public boat launch on the northwest shore, off of Rt 57. Park on Lake Buel Rd for easy access to the nearby Appalachian Trail.
Umpachene Falls, Hadsell St. to Umpachene Falls Rd.
A secret (well almost) swimming hole in the Konkapot River, beside a peaceful waterfall, located in a 5-acre park complete with walking trails and sunning rocks. Park open year-round; closes at 8 pm; no lifeguard on duty.
North Adams
Windsor Lake, Windsor Lake Rd.
Spend a day at the beach, explore the beautiful new playground and nearby hiking trails. The boat launch just around the corner on Bradley St. The bathrooms and beachside snack shack are open during the summer months, and there are lifeguards are on duty. The Free Summer concert series, Concerts on the Lake, runs every Wednesday evening from June - August at 7 pm.
(Daily Cost: $3/residents, $5/nonresidents)
Otis
Big Pond Town Beach, Great Woods Rd.
Beach on Big Pond designated for town residents and their guests. Open for swimming May 24 through September 2. Dawn until dusk. Town resident parking permit (or Otis dump sticker) is required during summer season.
Otis Reservoir, Tolland Road*
At 1,065 acres, Otis Reservoir is the largest body of water in Massachusetts and the jewel of Tolland State Forest. Parking is available at the campground and day-use entrance on Tolland Road, where visitors will find a pristine sandy swimming area, clean picnic tables (many with grills), public boat ramp, and access to miles of multi-use hiking/walking/biking/ski/equestrian trails.
Pittsfield
Burbank Park, Valentine Rd.
A 153-acre public park on the eastern shore of Onota Lake, with a sandy beach, double boat launch, fishing pier, picnic sites (some equipped with grills), playground, concert pavilion, and lakeside walking trails. Free parking. No permit required.
Lulu Brook, 1041 Cascade St.*
Picnic and swim in the natural cold spring pool at LuLu Brook, located in the Pittsfield State Forest.
Pontoosuc Lake, Hancock Rd.
Providing beautiful views to travelers along Rt 7 at the Pittsfield-Lanesborugh line, Pontoosuc is a 480-acre lake beloved by local boaters and fishermen. Parking is available near the public boat launch and the public sandy beach area at Pontoosuc Park. Free parking. No permit required.
Richmond
Richmond Town Beach, Town Beach Rd.
A quiet family beach on Richmond Pond, with a roped off swim area and floating dock. Porta-potty available. Open Tuesday through Sunday, mid-June through Labor Day. Lifeguard on duty from 11 am – 5 pm. No parking permit required.
Sandisfield
Upper Spectacle Pond, Webb Rd. (off Route 23)
Car top boat launching access only. No town permits required.
York Lake, York Lake Rd./Route 183*
Though there are six lakes located in this state forest, York Lake offers a roped-off sandy beach, surrounded by a grassy play area, with clean changing and bathroom facilities. Many of the shady picnic areas also include grills.
Sheffield
Three Mile Pond, Brush Hill Rd.
Car top boat launching access only. No town permits required.
Stockbridge
Stockbridge Town Beach, Hawthorne Rd.
A 450 stretch of sandy beach on the southeast corner of Stockbridge Bowl. (Town resident sticker required during summer season.)
Tyringham
Goose Pond, Goose Pond Rd.
Follow Route 20 through East Lee to Forest St. and on to Goose Pond Rd. for the closest access to the rocky shoreline, where you can launch kayaks with relative ease. A tree-lined channel connects to Upper Goose Pond and is easy to navigate with kayaks. No parking sticker required.
West Stockbridge
Card Pond, Route 41
Kayak, fish, swim and enjoy the play area! No parking sticker required. No motorized boats.
Cranberry Pond, Richmond Rd./Route 41
Parking and kayak launch area is located directly across from the cemetery. No parking sticker required.
Williamstown
Margaret Lindley Park, Route 2/Mohawk Trail
The park is located at the "elbow" of Route 7 and the Mohawk Trail (Rt 2). The swimming pond, with sandy beach, is open to the public from dawn till dusk. With brand new clean bathrooms on site, you can stay all day, so pack a picnic and your sand toys! No parking permit required.
Mount Hope Park, Green River Rd. and Hopper Rd.
A four-foot deep swimming hole beneath a small cascade of the Green River, with nearby picnic tables and grills.


*MA State Forest Property
NOTE: There is a day use/parking fee at MA State Parks that varies from $5 - $14 ($60 season fee for Mass residents or $85 non-residents). Click here for a complete list of DCR rates and fees.

Do you know of a family-friendly place to swim not listed here? Please send info so we can update our list taylors@macaronikid.com.