Playgrounds and parks in the Berkshires are a great source of free family fun in the region and Berkshires Macaroni Kid has made it easy for you to find one near you with the comprehensive town by town list below. Did we miss one of your favorites? Please shoot me an email at taylors@macaronikid.com.
---
Adams
Adams Youth Center, East St.Play structure, slides, pavilion, and picnic area.
CT Plunkett Elementary School, 14 Commercial St.Playground and basketball hoops
Reid Field, Sparrow St. (near DPW)Play structure, slide, and swings.
Renfrew Park, 46 Friend St.Skate park, baseball field, two full-size basketball courts, soccer field and a super fun play structure
Russell Field, Prospect St. to Harmony St.Ample parking, tennis courts, baseball field, new play structure and bike racks. Just a short walk to coffee/food/bathrooms/snacks downtown.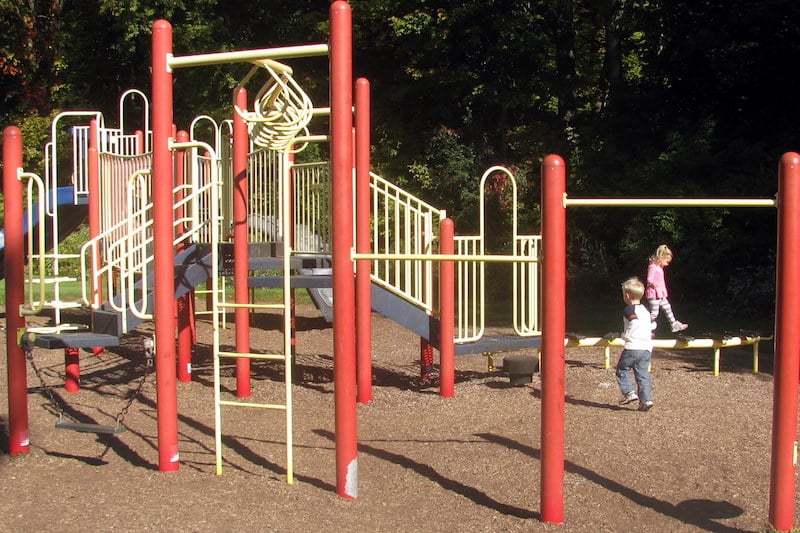 Becket
Becket Town Playground, Main Street/Route 8(Renovated in Spring of 2017 more info to come on the new structures) Picnic pavilion, basketball, beach volleyball, tetherball, baseball field, skate park, sandbox (with sand toys), and a unique wooden play structure. Just a short walk across the baseball field to the Becket Country Store & Café.
Becket-Washington Elementary, 12 Maple Street. Two play areas designed for younger and older children, including a super-sized sandbox, four-square, hopscotch, a tennis court, and full-court basketball.
North Becket Village Park, Maple St. (Across from school)Larges fenced-in playing field with a gymnastics obstacle course, balance beams, and rings.
Cheshire
Cheshire Elementary School, Church St. to School Street. Two playground areas for toddlers and older children, playing fields, and a basketball court.
Whitney Farms, 1774 Rt 8/S State RoadPeacocks, sheep, goats, ponies, porta-potties, and multiple play structures! Sandwiches, coffee, and baked goods inside and outdoor Dairy Bar (open seasonally).
Clarksburg
Clarksburg Elementary School, Cross Rd.Preschool play area with play structure, toddler swings, slides, and a basketball court.
Dalton
Pinegrove Park, High Street & Curtis Ave. A 7-acre park with basketball courts, baseball field, softball fields, football field, picnic pavilion, handicap accessible bathrooms and a completely renovated playground area (fall of 2017).
Craneville Elementary School, 71 Park AveTwo large playground areas (front and back of school), basketball courts, and athletic fields.
Chamberlain Park, Chamberlain AvePlayground, baseball, and soccer fields.
Greenridge Park, South St.Full court basketball, baseball, picnic pavilion, and unique play structure. The climbing dinosaur and springy tractor and horse are kid favorites!
Florida
Gabriel Abbott School, 56 County Road. Two large play structures with a basketball court and sidewalk games.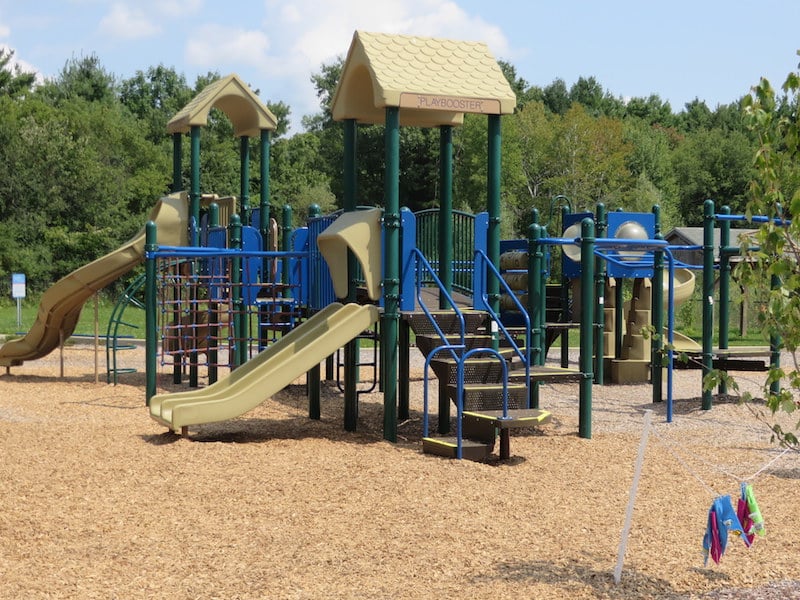 Muddy Brook Elementary School
Great Barrington
Giggle Park, Castle St.
Modern play structures, with a sculptural feel. A clean and bright fenced-in play area just across from the Mahaiwe. Giggles are guaranteed!
Grove Street Playground, Grove St.Shady tree-lined neighborhood playground with new swing-set.
Lake Mansfield, Lake Mansfield RoadSmall playground area, sandy beach, shallow weed-free swimming, and a shady walking and picnic area. (Free parking)
Muddy Brook Elementary School, 318 Monument Valley Rd.Large playground, with a dozen swings, brand-new play structure, and plenty of shady benches alongside a small soccer field and exploratory pond.
Hancock
Hancock Elementary School, 3080 Hancock Rd.Playground, swings, slides, and climbers, alongside the soccer field.
Ioka Valley Farm, 3475 Route 43Farm-themed play structure and friendly farm animals in Uncle Don's Barnyard.
Hinsdale
Hinsdale Town Park, Maple Street/Route 143Plenty of off-street parking (below the Community Center). Swings, bouncy train and zebra, merry-go-round, play structure, and jungle gym. Completely fenced in. Ideal for younger kids. Basketball court just outside of the fenced area.
Kittredge Elementary School, 80 Maple St./Route 143Large play structure, "big kid" swings and slides, see-saw, jungle gym, four square, hopscotch, and a rock-climbing wall. One side of the parking lot is a car-free zone, so bring your bicycles and helmets.
Housatonic
Housatonic Playground, 207 Meadow St.Large wooden pay structure and playing fields (behind the Housatonic Community Center)
Interlaken
Interlaken Park, Averic Rd.
A hidden gem of a park, with old school playground equipment, an oversized sandbox, and a gravel beach and stone wall alongside a stream. (Rt 183/Interlaken Rd to Averic Rd.)
Lee
East Lee Playground, Route 20. Fenced-in play area with basketball court, softball field, swings, slide, teeter-totter, and elevated playhouse. (NOTE: Similar playgrounds with identical equipment and located at the Marble Street Playground and South Lee Park on Route 102.)
Lee Athletic Field, Housatonic St./Route 20Behind "The Rink" is the Lee Athletic Field, with a newer play structure, retro play equipment, tennis courts, basketball court, and skate park. Water bubblers and porta potties available in summer the months.
Lee Elementary School, 310 Greylock St.
Three state-of-the-art playground areas for kids of all ages (behind the school), plus a beautifully landscaped, paved walkway and a full-size basketball court.
Scooped Homemade Ice Cream, 395 Laurel St.Stop by Scooped for ice cream! Kids will love the mini roadside playground and a giant chessboard. It's conveniently located half-way between Lee Sandy Beach and Lenox Town Beach at Laurel Lake. (Both beaches are open June 15 - Labor Day with bathrooms/changing facilities and lifeguards on duty.) Parking stickers are not required.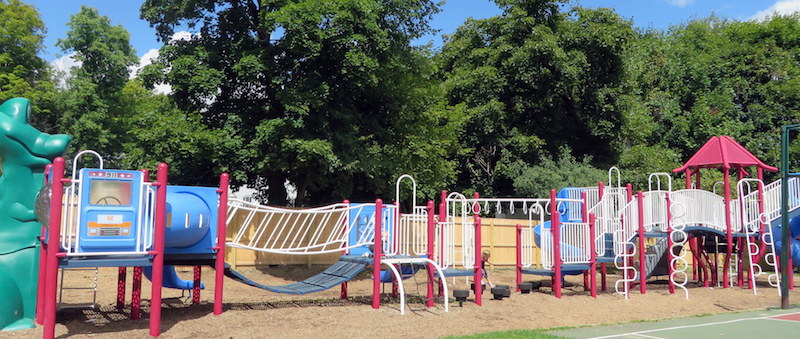 Lenox Community Center
Lenox/Lenox Dale
Lenox Community Center, 65 Walker St.
Kids won't be able to resist this super-long play structure, complete with a giant crocodile and super-fast corkscrew slide, beside the newly paved and painted full-size basketball court.
Morris Elementary School, 129 West St.Overlooking the soccer and baseball fields, the play area features a beautiful new play structure, hopscotch, and basketball court (porta-potty available during summer months).
Orebed Park, Housatonic St.A 1.2-acre park with a baseball field, swings, a toddler play structure, and picnic tables.
Tillotson Park, Walker Street (Lenox Dale)This 5-acre public park in Lenox Dale is equipped with a baseball field, basketball court, playground structure, and swings.
Lanesborough
Bill Laston Park, Route 7Two new play structures adjacent to the baseball field. The perfect spot to sit and enjoy a game or devour some take-out from Ye Olde Forge, just up the road on Route 7.
Lanesborough Elementary School, Summer StreetTwo awesome play structures, one fenced-in and toddler-friendly, and one that will appeal to kids of all ages. Plus a full-court basketball court, soccer fields, paved walkways for young bike riders, a picnic pavilion, and even porta potties in the summer.
North Adams
Alcombright Athletic Field, Protection Ave.
Baseball, softball, T-ball, and soccer.
Beaver Street Playground, Beaver St.Playground, and basketball court.
Blackinton Playground, Massachusetts Ave.Playground and baseball field.
Brayton Elementary/Brayton Field, 20 Brayton Hill Terrace
Located behind the YMCA, this is a terrific toddler playground complete with a truck and house play structure, along with softball, baseball, soccer and basketball.
Freeman Playground, Hospital Ave., and Eagle Street. Softball fields, playground, and basketball court.
Greylock Elementary, 100 Phelps Ave.Playground with toddler area and "car climber", abutting Greylock Park, with little league baseball and basketball.
Houghton Playground, Cleveland Avenue. Two fenced-in play areas designed for 2 – 5 year-olds and 5 – 12 year-olds, along with a basketball court and track.
Johnson School, Williams, and Cady St.Playground and basketball.
Noel Field Athletic Complex, 310 State Street/Route 8The athletic complex hosts many youth sports programs, and its Joe Wolfe baseball field is home to the local collegiate baseball team, the North Adams Steeplecats, and the MCLA Trailblazers. The park also has a basketball court, tennis courts, soccer field, walking trails, low impact track, and "The Alligator Playground."
River Grove Park/River Street Playground, River St.Playground, soccer, youth football, and a walking track.
Sullivan Elementary School/Kemp Park, 151 Kemp St.Large wooden play structure, baseball, and basketball.
West End Apartments Play Area, Sullivan St.Neighborhood playground, with basketball and soccer.
Windsor Lake Playground, Intersection of Bradley and Kemp Steet. NEW play structure with slide, climbing obstacles, and spring rider, located just a short walk from the sandy public beach, with gorgeous views and multiple picnic areas.
North Egremont
French Park, Prospect Lake RoadPlayground, picnic tables, and benches.
Otis
Town Hall Skate Park, 1 North Main Rd.Skatepark with a wedge box, jump combo, quarter-pipe, and a grind rail, equipment for ages 2 to 12 such as monkey bars, seesaw, and more.

Pittsfield
Allen Heights, Somerset St., and Windsor Ave. Playground and athletic fields.
Allendale Elementary School, 180 Connecticut Ave. Playground and athletic fields.
Burbank Park, Valentine Rd.A 153-acre public park on the eastern shore of Onota Lake, with a sandy beach, double boat launch, fishing pier, picnic sites (some equipped with grills), playground, concert pavilion, and lakeside walking trails.
Carrie Bak Park, Dewey Ave. and Danforth St. Playground, wildlife viewing tower, and picnic area.
Conte Community School, 200 West Union St. Playground and playing fields.
Clapp Park, 215 West Housatonic Street. One of the largest play structures in the county, playing fields, running/walking track (8 laps = 5 miles), and a spectacularly steep sledding hill.
Crane Park, Benedict Rd. & Springside Ave. IntersectionInline street hockey rink, basketball court, and swings.
Crosby Elementary School, 517 West St.Playground and athletic fields.
Deming Park, Elm St., and Meadow LanePlayground, swings, and baseball fields.
Dorothy Amos Park, West St.Basketball court, playground, and sitting area.
Egremont Elementary School, Egremont Ave.Playground, balance beams, play structure, basketball, and soccer fields.
First Street Common Park, First St.pavilion, bathrooms, basketball court, gazebo, new play structure, and a splash park (coming soon!!) in an urban downtown setting.
Highland Park, Highland Ave.Small playground.
Kirvin Park (Sackett Brook), Williams St.227-acre park, featuring a playground and dog park. Swings and a fun play structure, surrounded by plenty of running room on soccer fields and a new disc golf course.
Lebanon Park, Lebanon Ave. Basketball courts, play equipment, and athletic fields.
Marchisio Park, Dalton Division Rd.Basketball court, volleyball courts, playground, and athletic fields.
Morningside Community School, 100 Burbank St.Multiple play structures and playing fields.
Osceola Park, Osceola St.Basketball court, athletic fields, play equipment, and a sledding hill with a rope tow!
Pitt Park, Columbus Ave. and John St.Playground, basketball courts, and softball field.
Pittsfield Skate Plaza, East St., and Appleton Ave.Bike and skate park designed for teens and tweens.
Ray Crow Park, Winter StreetPlayground, picnicking area, and basketball court.
Springside Park, 874 North St.A 246-acre public park, featuring the Vincent J. Hebert Arboretum and gardens, a playground, hiking trails, pond, softball complex, Little League fields, basketball court, outdoor concerts, yoga in the parks…. Master Gardeners Workshops offered on select Saturday mornings and gardening demos held before "Tuesday Night in the Park" music series.
Tucker Park, Linden StreetPlayground, "Tot-Lot" playground, and basketball court.
West Memorial Park, Cheshire Rd./Route 8Playground and athletic fields.
Williams Elementary School, 50 Bushey Rd.Play structure, swings, playfields, and a giant horse pulling a chariot!
Richmond
Richmond Consolidated School, 1831 State Rd/Route 43A beautiful new play structure with surrounding playfields.
Savoy
Emma L Miller Memorial Elementary School, 26 Chapel Rd.Large play structure with swings and multiple corkscrew slides, and grassy playfield.
Stockbridge
Stockbridge Town Park, Park St.
Play equipment, picnic area, soccer fields, and a skate park.
Stockbridge Town Playground, Main St.Prime playground real estate on Main Street in Stockbridge, featuring multiple play structures, swings, and old school jungle gym, merry-go-round, and spring-loaded riding toys, as well as the town little league field and tennis courts. Parking available at the Town Hall at 50 Main St.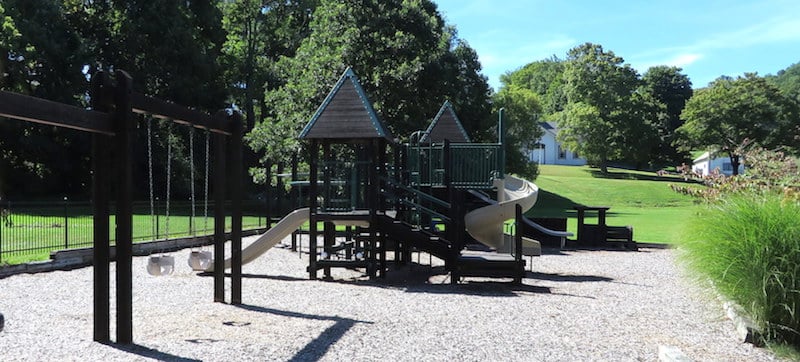 Tyringham
Tyringham Park, Across from the post office on Tyringham/Main RdIn the heart of Tyringham Village sits Tyringham Park, a gated play wonderland for parents and kids, with a giant play structure and multiple swinging and sliding options. Transform the caboose of the wooden train into a dining car for little snackers!
Washington
Washington Town Park, Route 8/South Washington State Rd. Put this playground at the top of your to-do list. There are wide open spaces for running, gravel paths for strolling, firepits for grilling, a pavilion for picnicking, swings of all sizes, a modern play structure, merry-go-round, ride-on toys, and slides, not to mention the basketball court, soccer, and baseball fields and giant sliding hill.
West Stockbridge
Card Pond, Route 41Kayak, fish, swim, and enjoy the play area! (No parking sticker required.)
West Stockbridge Town Hall Playground & Skate Park, 21 State Line RdLarge play structure, skateboard park, tennis, soccer, and basketball court.
Williamstown
Broad Brook Playground, Harrison St.Large grassy fenced-in playground area, with swings, toddler zone, climbers, and riding toys, along with picnic tables and basketball court.
*Linear Park, Route 43: Note: The playground structure has been removed and fundraising is taking place to replace it. There is a shady picnic area with grills, trash cans, and access to the river.
Williamstown Elementary School, 115 Church St. Two beautiful play structures, designed for 2 – 5 year-olds (fenced in) and 5 -12 year-olds, with a rock wall, bridges, rollers, and swings, adjacent to the full-court basketball court and soccer fields.
Just Beyond the Berkshires:
Cummington
Pettingill Memorial Recreational Field, Just off of Route 9/Berkshire Trail
Nestled behind Berkshire Trail Elementary School, set back from Cummington's Main Street, is the Pettingill Memorial Recreational Field. With bathrooms, a giant picnic pavilion, baseball field, tennis courts, walking trails, and impressive play structure, it's the perfect stopover for families traveling Rt 9 between the Berkshires and Northampton/Amherst area
Florence
Look Park, 300 N. Main St. Multiple playgrounds, spray park, walking trails, bumper boats, mini-golf, petting zoo, train rides, playing fields and picnicking areas, and more

Find all your Berkshire Family Fun in one Place! Sign up for your FREE newsletter by clicking HERE